Our Franchise Owners Enjoy the Suite Life

Simple Buildout
A typical Phenix Salon Suites are 3,500 – 13,000 sq ft. and have 14-73 suites. All types of real estate—strip malls, freestanding units, anchors can work. We will help you find the one that's best for your market.
Semi-absentee model
Many of our franchise owners still keep their jobs, in addition to owning a Phenix Salon Suites franchise. Because this is essentially a property management concept, Franchise Owners can manage much of the business remotely online.


Flexible Hours
Your salon professionals set their own business hours, and you can, too. You do not need to be on-site every day, but we encourage weekly visits to your location(s) to meet with salon professionals and coordinate site maintenance as applicable.
Limited staff and inventory
The business requires only one staff member to greet customers and manage the front of the location. To add to your bottom line, you can choose to carry product inventory in your reception area.


WE'RE MORE THAN A SALON SUITES FRANCHISE. WE'RE FAMILY.
When we say that Phenix Salon Suites is one big happy family we mean it. The family connection starts with our name, Phenix, which is the name of Gina and her husband Jason's first-born son. Our Franchise Owners and salon professionals become part of the family, too. Every year we gather for our company's convention, which we call our Family Reunion. Franchise Owners participate in small group sessions and have valuable face time with the brand Leadership Team. Salon professionals receive valuable training and education at no cost—a benefit that is unique to our brand. And everyone is invited to celebrate our collective successes, learn about new innovative brand updates, and hear what's in store for the future.
PHENIX SALON SUITES HELPS YOU EVERY STEP OF THE WAY IN OPENING AND RUNNING YOUR FRANCHISE.
Our real estate expertise delivers real benefits to you.
Finding the best real estate for your Phenix Salon Suites franchise is a critical part of your success. Your dedicated real estate director, guided by our proprietary real estate technology, will use market demographics to determine which location is best and will work with you to negotiate your lease. A Phenix Salon Suites location is flexible to work in different real estate options, so your selection process is much more streamlined.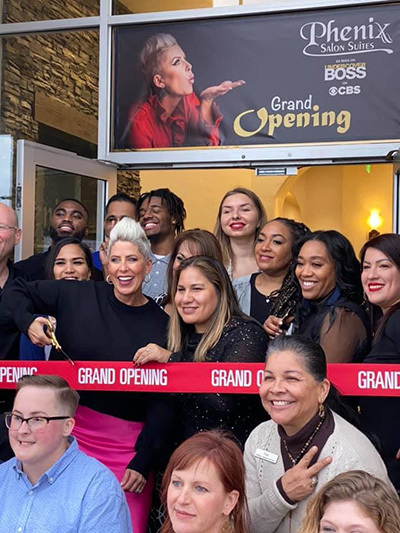 Our marketing support is a cut above.
Our experienced marketing team helps you find and lease to salon professionals well before your Grand Opening. Your goal is to open with 70% occupancy or higher, but your results may vary depending on the market and ability to obtain professionals.
Our online portal provides countless marketing templates for you and your salon professionals to customize and use to drive customers to your location.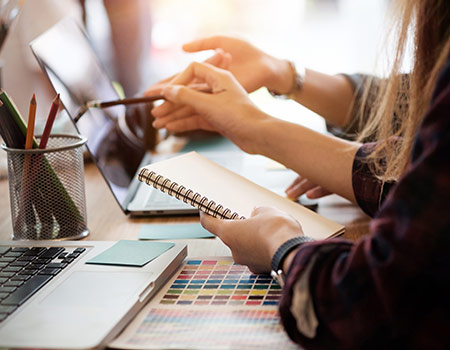 We drive business using the latest technology.
We are constantly rolling out systems and technology to make your business more profitable. A recent innovation to drive business to the salon professionals in your suites, is Gina's App. It directs users to the nearest stylist based on the desired area of service. For example, someone looking for a colorist could search the app for "hair stylists near me specializing in color treatments." Results can also be filtered by mile radius and price. Your salon professionals get this value-added listing for free!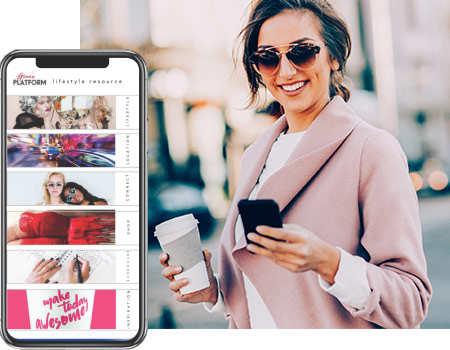 We give you the tools to recruit and retain salon professionals.
We offer salon professionals multiple in-person training opportunities throughout the year. Some may require travel but there is no cost for the classes, which saves your salon professional hundreds—even thousands of dollars. It's just one more reason they love being part of the Phenix Salon Suites family.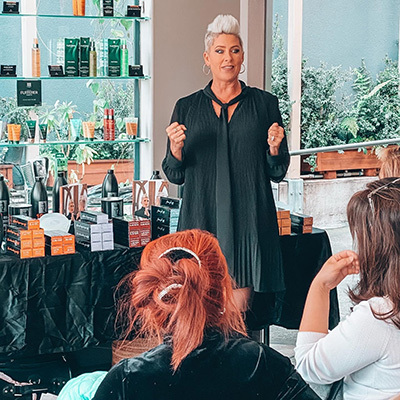 Are you interested in owning a Phenix Salon Suites franchise? COMPLETE THE FORM BELOW, AND OUR TEAM WILL REACH OUT TO YOU SOON.