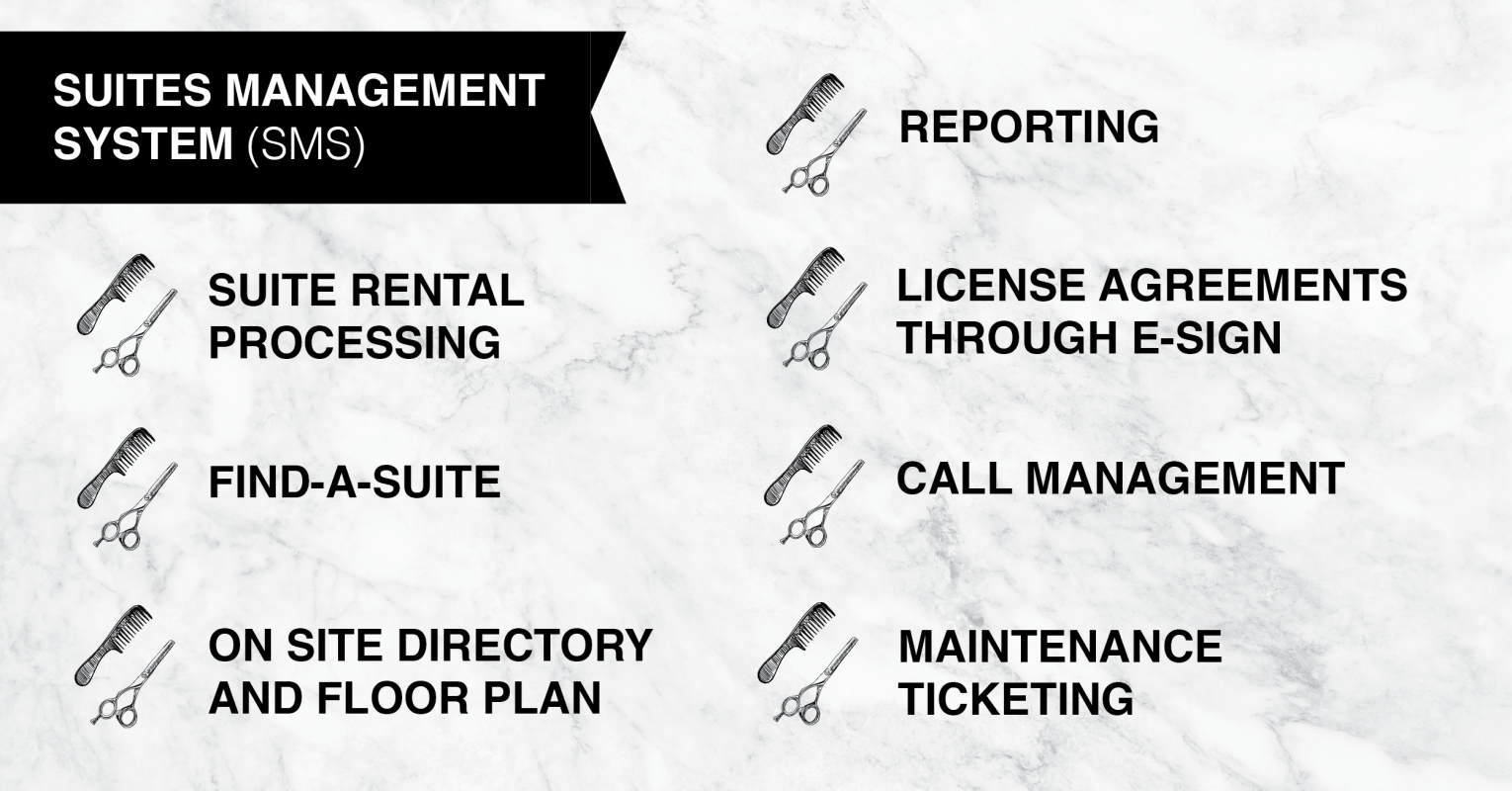 When it comes to operating your salon suite, staying organized and efficient is key to success. That's where Phenix Salon Suites' Suite Management System (SMS) steps in. Tailored explicitly for the salon suites industry, this multi-dimensional integrated software offers a range of benefits and features designed to streamline operations and enhance the experience for franchisees and salon professionals.
As a semi-absentee franchise opportunity, features like SMS are a game-changer for franchisees, allowing most to manage remotely with minimal hours. Let's take an inside look into what SMS has to offer:
Streamline Suite Rental Payment Processing
Managing invoices and collecting rent can be a time-consuming task for salon suite owners. However, our system automates invoicing and collections, ensuring payments are processed seamlessly. It accomplishes this at a lower cost than traditional software like QuickBooks, providing franchisees with a cost-effective solution that benefits their bottom line. 
Effortless Lead Management with Find-A-Suite
Attracting new salon professionals is crucial to the success of your salon suite. This tool allows franchisees to track and manage leads in one centralized location. Automated text and email responses ensure potential tenants receive timely and professional communication. Our system also facilitates drip email campaigns, leveraging your database of leads to make informed marketing decisions.
Swiftly E-Sign License Agreements
Tired of the paper chase? The SMS expedites your onboarding process with digital signatures. All documents are also stored digitally within the system.
Efficient Lead Management
For multi-unit operators, our lead management system prioritizes calls for suite licensing while screening out robo and other spam calls. Plus, you streamline your phone system routing with automated option selections, including automated imports to Find-A-Suite for lead tracking.
Timely Maintenance Ticketing
Allow your salon professionals to create maintenance requests directly from their phones, ensuring timely reporting and follow-up. Franchisees can easily track maintenance history, from request to resolution, all from your SMS.
Insightful Reporting
From financial insights to occupancy rates, our SMS tracks a variety of key performance indicators (KPIs) needed to help you run your business more efficiently.
The Phenix Salon Suites' Suite Management System (SMS) is a powerful tool that empowers franchisees with the resources they need to run their business efficiently. With its ability to streamline operations, enhance salon professionals' experiences and provide valuable data-driven insights, the SMS is a game-changer and differentiator for the Phenix Salon Suites franchise opportunity.
To learn more about available territories, please fill out an inquiry form and our franchise development team will be in touch.