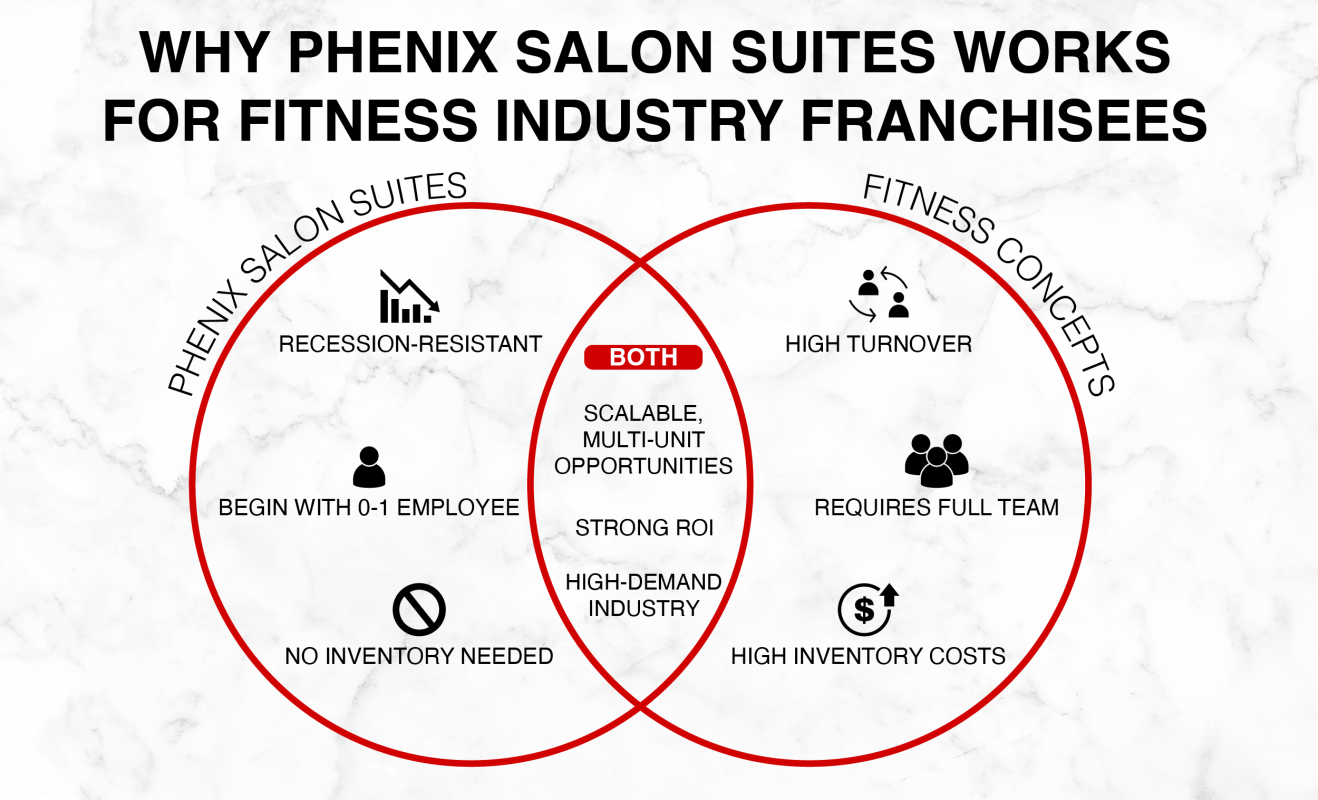 In the world of financial literacy, putting all your eggs in one basket can be setting yourself up for failure.
Similar to keeping a portfolio of different stocks to diversify your investments, diversification with multi-brand franchise ownership is an effective way to protect investment stability. Adding a complementary brand that strategically aligns with your existing network is key to achieving long-term success.
For fitness franchise owners, a salon suite offers a scalable business model that perfectly complements an existing portfolio. Here we'll break down the similarities between the two industries:
Simple Business Model
Gym franchises are a relatively straightforward business model, just like a salon suite franchise. With the assistance of one part-time employee, the day-to-day operations of a salon suite franchise are easily maintained virtually with just 5-10 hours a week required. The semi-absentee ownership model gives a better work-life balance and leaves time to dedicate to other business ventures.
High Demand Industry with a Strong ROI
Just like gym buffs, beauty services are always in demand. With recurring, reliable revenue brought in by lifestyle professionals, salon suites are easily filled with established professionals who have an existing clientele.
No Inventory
For a fitness franchise, once you have the equipment there's no inventory to manage. Salon suites owners act as property managers, with no product inventory required. It's up to the tenants, the lifestyle professionals, to manage their own supplies and products.
Recession Resilient Industry
If the pandemic showed us anything, it's the value consumers put towards looking and feeling their best. Much like a gym franchise saw sign-ups increase post-pandemic, salon suites exploded as many lifestyle professionals searched for opportunities to run their own businesses without the expensive overhead that comes with traditional salons.
Invest in a Salon Suite
Add the nation's #1 salon suite to your franchise portfolio. Phenix Salon Suites is the perfect counterpart to any fitness portfolio. Our scalable, semi-absentee model integrates efficiently with your existing operations.
Learn more about franchising and available territories with Phenix Salon Suites.