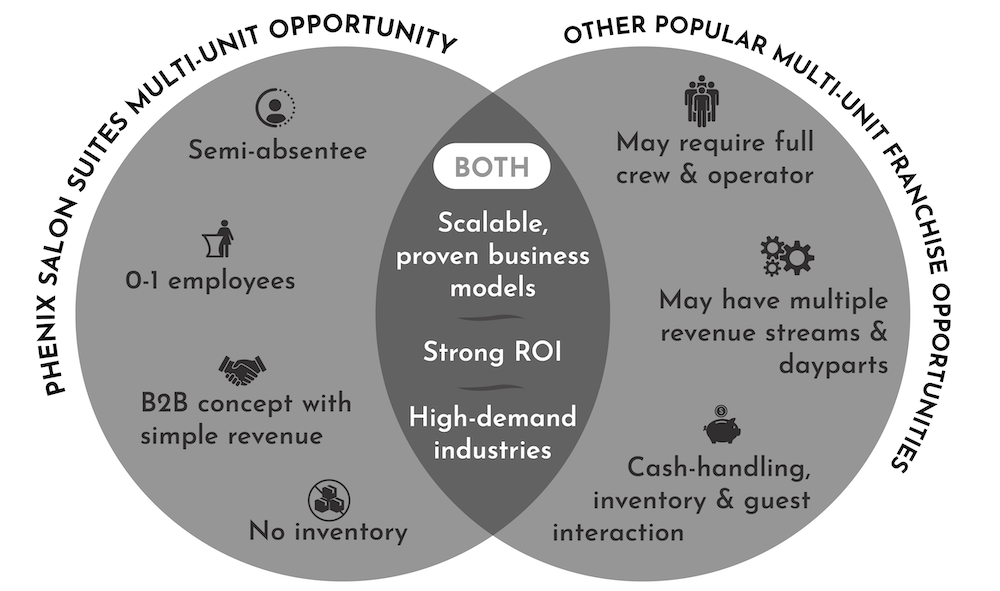 The key to building wealth is having multiple streams of income. But for most franchise owners, that might not be possible. Traditional franchises require that the owner is onsite or requires a full management crew to monitor the day-to-day aspects.
But what if you want to do both?
The Key is Semi-Absentee
The prospect of owning a franchise while still making money with your current position may sound too good to be true, but for semi-absentee concepts like ours, the business is designed to be operated with minimal hours and few employees to manage.
A simple revenue system offers a more attractive multi-unit investment than more complicated models. At Phenix, our property management model means franchise owners collect rent from lifestyle professionals as their main source of revenue.
Experience Our Suite Model
Fortunately, for our franchisees, our simple, scalable revenue model makes multi-unit ownership a breeze compared to other popular concepts.
Franchise owners can count on our reliable, recurring revenue and simple operations. With less inventory, fewer staff and consistent, reliable ROI, many Phenix franchisees are multi-brand franchise owners that find our model to be a manageable, semi-absentee addition to their current franchise holdings.
But don't just take our word for it, hear from seasoned business owner and area native Christian Blackstock, who opened his fourth salon suite in Buckhead, Georgia, earlier this year.
"I'm proud to have partnered with Phenix Salon Suites a fourth time. The brand's business model is extremely easy to operate and has allowed me to help other entrepreneurs begin their business ownership journey as well," said Blackstock.
In tandem, Greg and Susan Gordillo own and operate two salon suites in the Houston market, eager to take advantage of our proven business model.
"Throughout our partnership with Phenix, we have felt so supported by their exceptional corporate team," said Greg and Susan Gordillo. "The founders specifically made us truly feel like family and the entire team has taken time to closely guide us through every step of the way on our ownership journey."
The benefits of our franchise model are crafted to serve multi-unit investors. Learn more about franchise opportunities with Phenix Salon Suites.