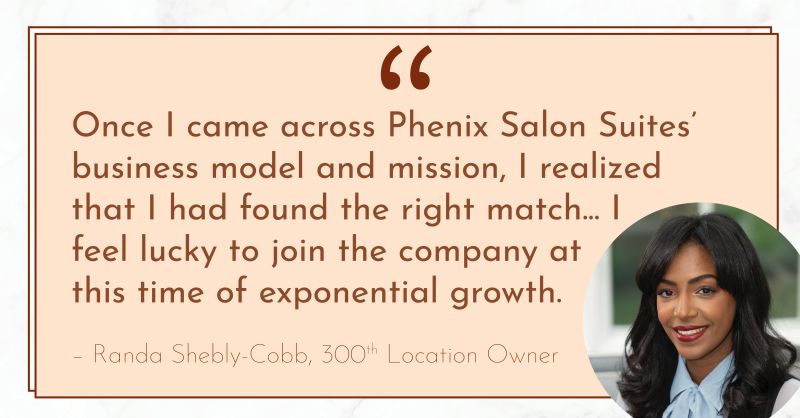 On the heels of so many other thoughtful reflections on the trials of the past year, we want to take an opportunity to share some optimism. The COVID-19 outbreak forced the beauty industry to confront systems that no longer worked and more resilient systems led the way into the new normal.
As we look back on the past year for Phenix, we highlight the resiliency of our salon professionals who continued to adapt to the changing industry landscape in order to provide excellent services to their clients. Together as a corporate team, franchisee system and network of lifestyle professionals, we have opened 300 salons to date, moved up 72 spots to rank in the top 15% on the Entrepreneur Franchise 500® list and have even more exciting announcements to come in 2021.
Read on for more on how we were able to support the business goals of franchisees and lifestyle professionals without major structural changes to our franchise model.
Industry Impact
The salon and spa industry boasted more than 1.2 million businesses generating over $57 billion in annual sales in 2019. Despite a trying year, the industry is expected to bounce back with great enthusiasm following the pandemic. The Bureau of Labor Statistics projects a growth of 10% in career opportunities for barbers, hair stylists and cosmetologists over the next 10 years—well above the national average.
Phenix Salon Suites has grown at a rapid pace amid the pandemic. With our individualized approach, suite-style salons provide separate spaces for each client with private one-on-one services that limits interaction with other patrons.
Salon Suite Opportunity
A traditional salon environment involves multiple salon professionals and their clients in the same room using the same equipment in an open-air environment. The challenge with this landscape is a lack of social distancing and costly sanitization efforts to keep the salon running within current FDA guidelines.
Meanwhile, a salon suite style provides the same great service in a private setting, where just the salon professional and client have close interactions. This presents a unique opportunity for the suite style industry, as it offers a solution to deliver an intimate service with respect to current and future safety regulations.
Each suite is equipped to support the tenants' needs without the high initial investment of opening a traditional salon. Tenants are given the flexibility to operate their own business in the comfort of their own suite, eliminating the stress of working elbow-to elbow in otherwise crowded and challenging conditions.
Increased Interest from Salon Professionals
Many lifestyle professionals are seeking the safety and security of their own individualized suite while moving away from the traditional salons where hours may have been reduced, and compliance with social distancing is more challenging. Individualized suites offer a solution where the professionals can operate and control their own environment and the flexibility to create their own schedule.
Phenix Salon Suites have seen a 344% increase in inquiries from salon professionals who are ready to take the next step towards being their own boss.
Learn more about franchising with Phenix Salon Suites.