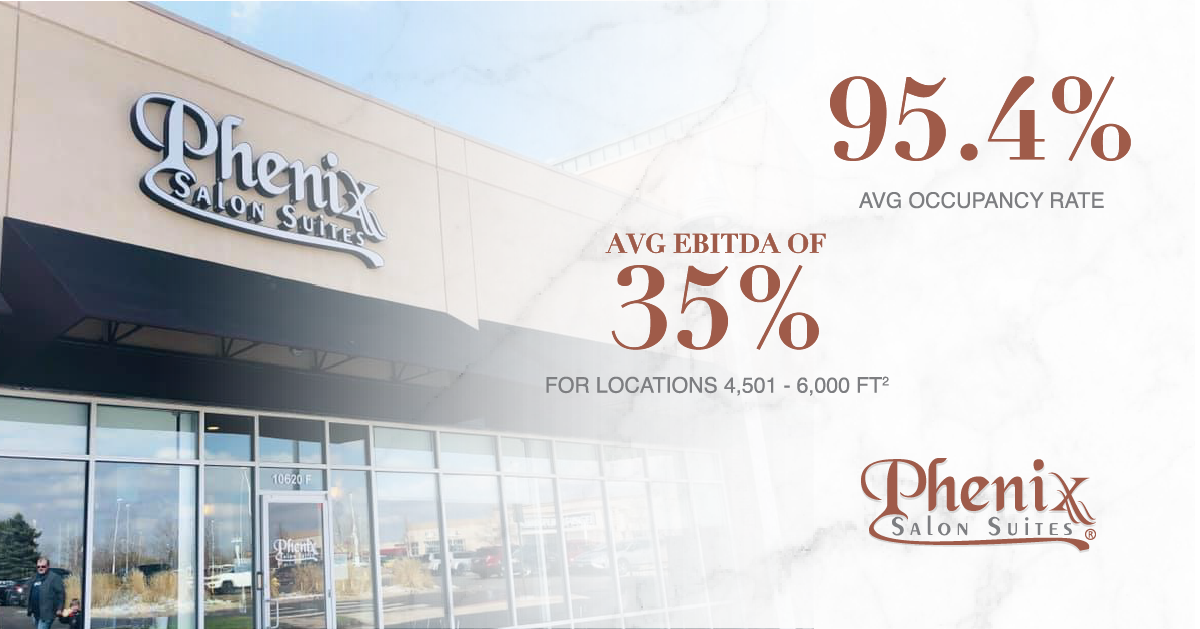 Whether you're a business executive looking to diversify your income, or an entrepreneur eager to expand your portfolio, salon suite franchises make a harmonious fit for many business personas thanks to its reoccurring income, heightened demand and semi-absentee model.
For those new to the salon suite business, you may have many pertinent questions. While our franchise development team is happy to assist with determining whether salon suite ownership fits your needs, let's break down some of the most common questions:
What is a salon suite franchise?
Let's get down to the basics. The salon suite business model is a property management concept, allowing salon and lifestyle professionals of different specialties to work under one roof within individual suites. This layout allows the lifestyle professionals to have their own salon suite within a larger, well-located salon.
Salon suite concepts like Phenix Salon Suites provide furnished salons with only a month-to-month commitment, along with the training, events and technology to assist these small business professionals.
Are salon suite franchises profitable?
Phenix Salon Suite franchise partners have the potential to achieve lucrative financial success. The net profit for a salon suite depends on size, location and population. In 2021, the top 50% of Phenix Salon Suites franchisees saw an EBITDA of $207K while the highest reports was $522K
Plus, the salon and spa industry are incredibly recession resistant. As we like to say, "hair always grows." There is never going to be an "app" to replace going to the hair salon for a haircut and color. With minimal required hours a week for franchisees, this allows your money to work for you.
Do I need experience with salons to be a salon suite franchise owner?
No, you do not need salon experience to successfully own a salon suite. Our most successful franchise owners come from a business background, looking for passive income and a willingness to learn. We have 100+ franchise partners from various backgrounds. While lifestyle professionals don't rely on franchise partners for their success, it helps tremendously if franchise partners can take an interest in their tenants.
What are the benefits of owning a Phenix Salon Suite? 
National brand recognition with 330+ locations
95% average occupancy rates and a recession-resilient business model
600% increase in the demand from lifestyle professionals over the last two years
Recognized on Entrepreneur's Fastest-Growing Franchises list eight years in a row
Innovative technology designed to propel lifestyle professionals' interest in renting with Phenix with an app created by our founder and industry expert
What corporate support is provided to franchise owners?
Phenix Salon Suites provides 100% support for our franchise partners. With over 85 years of salon experience, Phenix Salon Suites will help in every aspect of developing locations, including:
Real Estate – With our deep real estate knowledge in conjunction with significant expertise, we will work with you to find the right location and negotiate with your landlord to make sure you get the absolute best deal in regards to rent, tenant improvements and lease abatement.
Development – Our construction assistance starts with our third-party architectural firm that has drawn most of the plans for our locations. Phenix maximizes the square footage of each suite for the lifestyle professional, providing the optimum amount of workspace to generate revenue from every square foot.
Pre-Opening Support – We want to fill your suite even before you open your doors. Our pre-leasing department executes the strategy of attracting and securing lifestyle professionals for all Phenix locations.
On-Going Support – By joining the Phenix Salon Suites family, you tap into a team with hundreds of years of cumulative salon experience at your disposal. They can offer you marketing, operational, culture/retention and moral support.
Complete your portfolio with our suite concept. Learn more about franchising with Phenix Salon Suites.
*According to the latest 2022 FDD