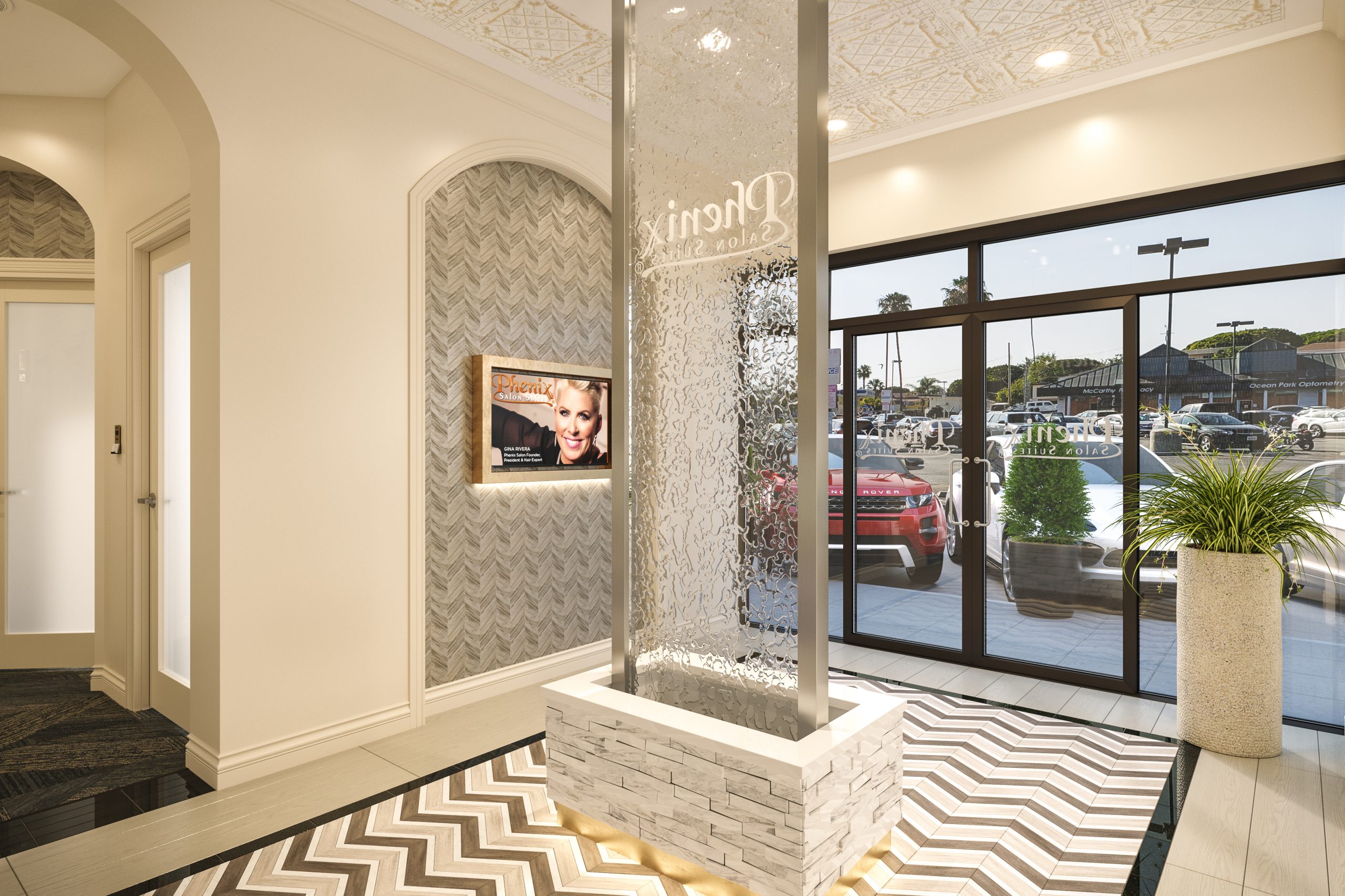 As a salon suite franchisor, our salon suites are just a framework. The salon suite only truly comes to life once a lifestyle professional brings their personal style to the space. However, the Phenix Salon Suites franchisor team has created a new prototype that makes our model attractive to both professionals and their guests before they even step foot in a suite—an important consideration for franchisees' tenant retention rates.
A Fresh Modernized Look
At Phenix Salon Suites, we're committed to creating a standout salon experience for our lifestyle professionals and their clients. We're proud to reveal the first salon buildouts featuring our new prototype redesign. Our new refreshed interior adds a sleek, modernized look to our lobby and common areas to attract top lifestyle professional talent for our franchise owners but leaves our suites themselves as a blank canvas for them to enjoy sull customization and self expression.
A Cute Above – The Phenix Difference
When Gina Rivera first founded Phenix Salon Suites in 2007, she went through a few years of trial and error, working to solidify a design and look that worked best for salon professionals. Fast forward nearly fifteen years, Gina is still actively involved in Phenix's franchise development and was a key consultant on the final prototype redesign. Her active involvement remains one of our brand's key differentiators, as our design and business model has been built by a stylist who understands the industry inside and out.
');
The new interior design in tandem with a high level of customization in the individual suites creates a welcoming atmosphere. In the hectic salon environment, Gina wanted to create a balance in the lobby and communal spaces, establishing a stronger loyalty for lifestyle professionals.
A Suite Opportunity
The customization that private salon suites offer improves the traditional salon experience with the safety and security to operate in their own space. The lifestyle professionals have total control over their environment and the freedom to sell whatever products they want to their customers. For stylists, our model provides a way for them to enter the world of small business and become truly independent operators.
We're focused on providing the most optimal space and experience to attract and retain tenants at our franchise locations. This fresh new look is just one way we set ourselves apart from other property management concepts, along with our semi-absentee model, limited staff and unmatched corporate support.
Learn more about franchise opportunities with Phenix Salon Suites.