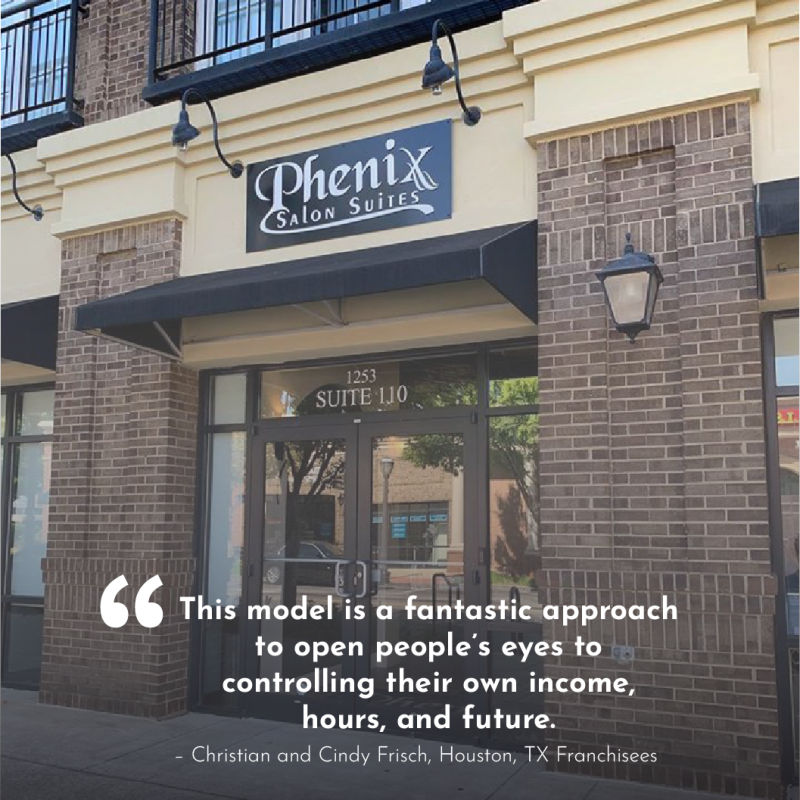 When embarking on any type of investment opportunity, you must evaluate the level of risk. Today's savvy investors tend to seek a balance between risk and reward. With a large draw towards investing in the real estate market, many see salon suites as a prime opportunity to capitalize on a commercial real estate investment.
A salon suite maximizes profits with a simple revenue stream. Our franchise owners simply collect rent from tenants without the overhead of staffing or inventory, something rattling most industries today.
Check out the additional benefits of investing in a salon suite:
Simple buildouts. Phenix Salon Suites average 2,000 to 7,500 square feet with 14 to 70 suites. The flexible footprint works for all real estate types, including strip malls, freestanding units, and anchors.
You'll enjoy semi-absentee ownership. Since every tenant essentially runs their own business, owners can manage much of the business remotely with flexible hours.
Limited staff and inventory. The business requires only one staff member to greet customers and manage the front of the location. To add to your bottom line, you can choose to carry product inventory in your reception area.
No salon experience is necessary. From restaurant owners to C-suite executives, a wide variety of motivated professionals find success with salon suite facilities.
Since we opened our first location in 2007, we've remained on the cutting edge of a thriving industry. With over 330+ locations across the country and industry recognitions, including Entrepreneur's Fastest-Growing Franchises list for the eighth year in a row, our impressive growth is true testament to our brand power and scalability.
Complete your portfolio with our scalable B2B concept. Learn more about franchising with Phenix Salon Suites.